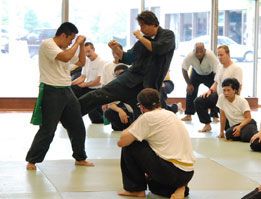 Sifu Robert Brown
Sifu Brown has studied martial arts for over 43 years. Born with cerebral palsy and dyslexia, he walked into his first dojo in leg braces at the age of 8 with low self confidence, anger issues, and physical challenges. By the time he was 13, the leg braces were gone, and he had developed the physical flexiblity and strength of an average, but clumsy teenager. Soon, his goal was to break boards and bricks, win trophies, and get black belts. Gradually, he realized that martial arts is so much more than the popular perception of punching, kicking and grappling.
He opened his first school in the suburbs of Detroit, MI after practicing for 20 years. He studied martial arts and meditation with teachers from the U.S., China, Japan, and India. His school eventually became one of the biggest adult martial art schools in America, despite his refusal to give in to the popular trend of giving away quick black belt ranks as incentive.
Ignoring most other fads of the industry, Sifu Brown has always held fast to his sincere belief that real martial arts taught well is enough. Challenging classes, practical self defense, and an emphasis on meditation and introspection is the real essence of true martial arts. As a lifetime student, he trains often with some of the most well-respected teachers in the country.
In the early 2000's, his adult program became a model for many martial arts schools. He began to consult the industry on how to incorporate a deeper more philosophical aspect to practice, including meditation. His ZMA resources, including the Lessons in Mindfulness and ZMA Insights meditation talks are now used worldwide by instructors of all styles. In 2007, he opened a second location in Rochester, MI with the help of Sifu Patrick Donahue and Sifu Ryan Scott.
To inquire about booking Sifu Brown to speak at your next event, please contact Jeri Donahue at the School of Martial Arts: 248-542-5630.
Call today to schedule your introductory class. We have TWO locations in Michigan: